Czech Television is a forward-looking broadcaster on the path to terrestrial digital broadcasting
Broadcasting
— English Pages — Česká televize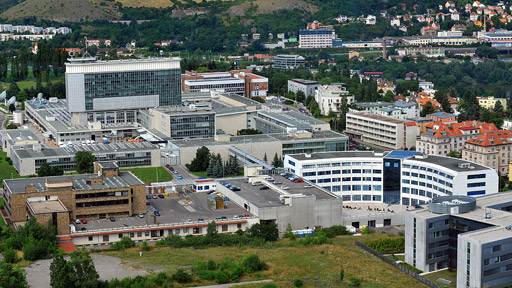 Welcome to the English Pages of Czech Television (CT), the public service broadcaster in the Czech Republic
Czech Television (CT) broadcasts 24 hours a day on all its channels (CT1, CT2, CT24, CT sport) with the exception of temporary channel CT3 (9 AM – 5:30 PM) and channel CT :D/ CT art (6 AM – 2 AM) which uses "time sharing" on a single channel position. All of the channels are broadcast using the terrestrial DVB-T2 network, the most significant platform in CZ (DTT signal received by 52 percent of households in 2019), and satellite DVB-S2 networks (DVB-S2 signal received by 22 percent of households in 2019). Cable TV operators using DVB-C and IPTV platforms also offer Czech Television channels in their packages. Since the launch of its operation in 2018, the DVB-T2 terrestrial network has been offering all CT channels in HD resolution using the H.265 (HEVC) compression standard. HD broadcasting on all channels is also available on the satellite platform (using the DVB-S2 standard).
The Czech Television broadcast also provides access services to people with special needs. In June 2014, Czech Television started to offer DVB subtitles on its HD channels. This service allows hard of hearing and deaf viewers to enjoy e.g. improved quality of graphic look. Furthermore, Czech Television provides Audio Description services for blind and partially-sighted people using the Receiver Mix system.
Czech Television is the leader in the field of hybrid television and services based on HbbTV standard in the Czech Republic. These services started to be offered in May 2012 with the launch of the first two applications (Teletext plus, Ice Hockey World Championship). Czech Television's HbbTV currently includes a whole range of applications including access to an extensive internet archive with over 95,000 hours of recordings.
Czech Television broadcasts via terrestrial, satellite and cable systems within the Czech territory.
Channels CT1, CT1 JM, CT1 SM, CT2, CT24, CT sport and CT:D/CT art are transmitted in standard resolution via terrestrial network 1. All of these channels (including temporary CT3) are also transmitted in high resolution via
Digital terrestrial platform using DVB-T2 standard on network 21. DVB-T2 services are free-to-air.
Digital satellite platform using the DVB-S2 standard. The satellite parameters are as follows:
Channels: CT1, CT1 JM, CT1 SM, CT2, CT3, CT24, CT SPORT, CT:D and CT art
Resolution: high
Orbital position: 23.5° East
Down-link frequency: 12 344 MHz
Polarization: horizontal, linear
Symbol rate: 29.9 MSymb/s
FEC ratio: 2/3
CT24 is the only free-to-air channel in satellite broadcasting. The other Czech Television channels are encrypted using the Irdeto system.
CT24 programmes, together with certain selected programmes from CT1, CT2, CT SPORT, CT:D/CT art, are also available as webcasts. Channel CT24 and programmes in the mode of Video on Demand (VoD) are available on Czech Television websites www.ct24.cz, www.czech-tv.cz and in HbbTV.