Membership in international organisations, Contact
International Relations
— English Pages — Česká televize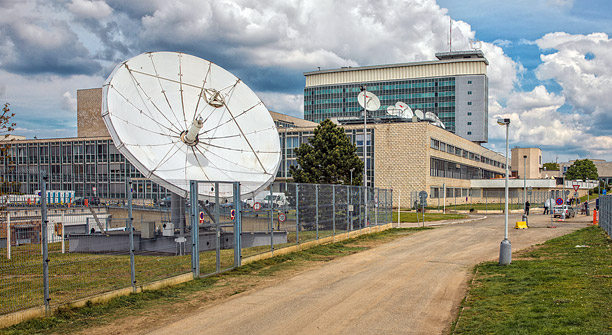 International Relations, was established on July 1, 2014, with the goal of developing international cooperation of Czech Television and enhancing the position of Czech Television in international institutions.
The Department is responsible for bilateral agreements, communication and cooperation with the EBU and other International organizations and institutions.
Contact for International Relations
/ a href="https://img.ceskatelevize.cz/boss/image/contents/english/foto/en-intrel-beranova.jpg" rel="lightbox">

/ /a>
Ms.
Andrea Beranova
Head of International Relations
internationalrelations@ceskatelevize.cz
phone: +420 261 134 736
News
2022
Czech Television is starting to interpret its main News into Ukrainian
Our goal is to provide incoming Ukrainians with daily access to relevant information not only about the war in Eastern Europe but also about current events in the Czech Republic and the world. Therefore, every day we offer them a live translation of News, which has long been the most trusted main news program on the domestic television market.
For the third week in a row, the regional studios of Czech Television Brno and Ostrava have also been offering news and information services for people coming from Ukraine to the Czech Republic.
2022
For Ukraine: Czech Television is organizing a benefit concert from Wenceslas Square
On Tuesday 1 March, Czech Television will hold a special benefit concert to help people affected by the conflict in Ukraine. The concert will be broadcast live from Wenceslas Square in Prague by Czech Television from 20:10.
The proceeds of the concert will go to the SOS Ukraine collection of People in Need. The organisation has been providing humanitarian aid in Ukraine since 2014, and as soon as the situation allows, its teams will focus on providing the most basic needs - food and facilities for internal refugees.

People donated 160 million CZK – (in EUR 6 186 720,-)
2021
Czech Television is, for the first semester, by far the most widely watched television group in the domestic market
Each week, it attracts an average of 7.5 million viewers in the 4+ category. It is the leader in all day broadcasting as well as during primetime. This has been the best result for the last 22 years.
The CT website is successful too. The average monthly website traffic is 11% higher than in 2020 when it actually struck a record high. An increase compared to 2020 was also recorded by websites such as CT sport (+80%), CT edu (+40%), Déčko (+17%) and IVysílání (+26%).
Channel CT sport is celebrating a record June. It was involved in two big events. The statistics will record namely the following matches: Ice Hockey World Championship: Czech Republic vs Finland (1.5 million viewers), Soccer EURO: Czech Republic vs Netherlands (1.1 million viewers).
Enjoy the summer!
2021
EBU congratulates Czech TV on Twitter
"Congratulations to our Member CzechTV on the 15th anniversary of their sports channel, the first purely sports-oriented public service channel in Europe. It's offered 34,000 hours of live coverage so far!" (link)
2021
Czech Television Channel CT Sport has been broadcasting for 15 years
Czech Television channel CT Sport was created as the fourth out of the seven current channels of the public service television. It was the first purely sports-oriented public-service channel in Europe. Unlike the public-service sports channels in the other countries, which were created rather as a reaction to the creation of private channels meaning that the public-service broadcasters had to catch up with the private broadcasters, in the Czech Republic it was the other way round.
Its broadcasting started on Friday, February 10, 2006 at 9 a.m. along with the opening of the Winter Olympic Games in Turin. The channel broadcast sixteen hours a day and, two years later, it switched to twenty-four-hour service.
During its service, it has offered an incredible 34,000 hours of live coverage including eight Paralympic Games and seven children's and youth games. Traditionally, the channel broadcasts not only professional sporting events, but also minority any amateur competitions.
In 2021, CT sport is going to assist at thirty-two championships in a total of twenty sports including hockey and soccer, it will also cover the Olympics, and its cameras will be present at twelve domestic professional competitions.
2021
Czech Republic - CT enjoyed strong ratings in 2020
Last year, for the third time in a row, Czech Television became the most watched Czech broadcaster with an average audience share of 30.86%. Moreover, niche channels CT24 and CT art achieved their highest results ever. CT1 improved its performance during the day (the best result since 2010) and in primetime. The share of Czech Television increased both in all-day broadcasting and in primetime (19.00-22.00) as it reached 29.45%. This is the second highest share in the last twelve years.
2021
Last year, the Czech Television program recorded the best audience satisfaction rating
Last year, Czech Television received an 8.5 audience satisfaction rating. The improvement was recorded in particular among viewers under 35 years of age. Last year, Czech Television also marked success at international level. For eight years in a row, CT24 had been the most watched news public service channel in Europe reaching, in addition, the highest audience share increase year-on-year. Niche channels in particular registered a growing viewers' satisfaction last year. The growth was registered not only by CT24, which is news channel, but also by CT art, which is a culture channel. Together with the new CT3 channel, CT art became the best rated channel (8.8 both). CT1, the main CT channel, retained the same audience satisfaction rating as the year before (8.5).
2021
Czech Television prepares special news reporting for elderly citizens
Czech Television is launching a new news program for its elderly viewers called Zprávy ČT3 (News CT3) which is going to complement the existing Czech Television news programs.
The new program should be slightly lighter and adapted to the needs and interests of people who have reached the age of retirement. The new program will be moderated at a slower pace using, for example, bigger graphics which are easier to read. The program will get on the air for the first time on Monday, February 1.
2020
EBU elects new Executive Board
The EBU has a new Executive Board – made up of representatives of public service media from throughout Europe.
Nine board members will join the EBU's new President Delphine Ernotte Cunci (France Télévisions) and Vice-President Petr Dvořák (Czech TV) to help lead the EBU over the next two years.
The new Executive Board were elected by Members at the EBU's 85th General Assembly. The Board is responsible for ensuring the implementation of the EBU's strategy and policies.
Thomas Bellut, Monika Garbačiauskaitė-Budrienė and Fran Unsworth all join the Executive Board for the first time. Alexander Wrabetz re-joins after a four-year absence.
Thomas Bellut has been Director General of ZDF since 2012 while Monika Garbačiauskaitė-Budrienė was appointed Director General of Lithuanian National Radio and Television in 2018. Fran Unsworth runs the BBC's news and current affairs programming and is a Member of the BBC Board.
Alexander Wrabetz has served as Director General of ORF since 2007 and was previously an EBU Board Member from 2011-2016.
Cilla Benkö has been appointed for her fifth term as an EBU Board Member while Marcello Foa, Giacomo Ghisani, Sebastian Sergei Parker and Gonçalo Reis will be serving for a second term.
Incoming EBU President Delphine Ernotte Cunci said: "I'm glad we could gather a great cast of skills and experience and also keep the balance of the geographical, economical and cultural diversity of the EBU Members in the composition of the new Executive Board. For the first time, I'm also proud to include 3 women on the board."
The Assembly warmly thanked outgoing Board members together with President Tony Hall (BBC) who has served as President of the EBU for the last two years.
2020
Delphine Ernotte and Petr Dvořák elected as President and Vice-President of the EBU
France Télévisions Chief Executive Officer Delphine Ernotte Cunci has been elected as the new President of the European Broadcasting Union (EBU). Czech Television's Director General Petr Dvořák will serve as Vice-President. They were both elected to the roles by an absolute majority at the EBU's first virtual General Assembly held online today. They will take up the new roles from 1 January 2021 for a two-year period. The President and Vice-President are responsible for leading the EBU's Executive Board and help champion the value and importance of public service media across Europe. Delphine Ernotte Cunci was appointed CEO of France Télévisions in 2015 and has just been re-elected for a second-term. Prior to joining France Télévisions, she spent 26 years at Orange S.A. (previously known as France Télécom), latterly working as CEO of Orange France from 2011–2015. She is currently serving as Vice-President of the EBU and will replace ex-BBC Director General Tony Hall as President.
Petr Dvořák has been Director General of Czech Television since 2011. Prior to joining, he served as Senior Vice President for Central European Media Enterprises and also worked as Director General of TV Nova – the most successful commercial television group in the Czech Republic.
Participation in international projects
EBU Peer-to-Peer Review
EBU Contribution to Society
EBU Generation What?
Membership in international organisations
EBU European Broadcasting Union
PBI Public Broadcasting International
Circom European Association of Regional Television
FIAT/IFTA International Federation of TV Archives
IMZ International Music and Media Centre
EDN European Documentary Network
EURONEWS, Eurosport
PRIX EUROPA
Fotogallery