Membership in international organisations, Contact
International Relations
— English Pages — Česká televize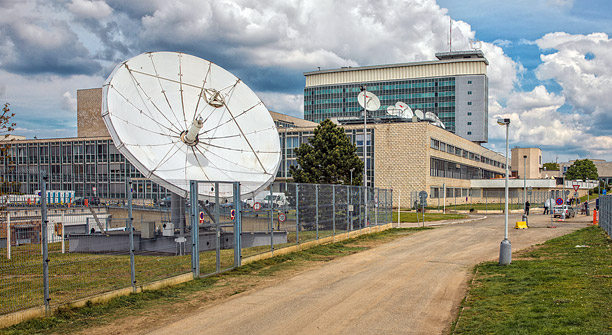 International Relations, was established on July 1, 2014, with the goal of developing international cooperation of Czech Television and enhancing the position of Czech Television in international institutions.
The Department is responsible for bilateral agreements, communication and cooperation with the EBU and other International organizations and institutions.
Contact for International Relations
/ a href="https://img.ceskatelevize.cz/boss/image/contents/english/foto/en-intrel-beranova.jpg" rel="lightbox">

/ /a>
Ms.
Andrea Beranova
Head of International Relations
internationalrelations@ceskatelevize.cz
phone: +420 261 134 736
Past international events
2021
EBU congratulates Czech TV on Twitter
"Congratulations to our Member CzechTV on the 15th anniversary of their sports channel, the first purely sports-oriented public service channel in Europe. It's offered 34,000 hours of live coverage so far!" (link)
2021
Czech Television Channel CT Sport has been broadcasting for 15 years
Czech Television channel CT Sport was created as the fourth out of the seven current channels of the public service television. It was the first purely sports-oriented public-service channel in Europe. Unlike the public-service sports channels in the other countries, which were created rather as a reaction to the creation of private channels meaning that the public-service broadcasters had to catch up with the private broadcasters, in the Czech Republic it was the other way round.
Its broadcasting started on Friday, February 10, 2006 at 9 a.m. along with the opening of the Winter Olympic Games in Turin. The channel broadcast sixteen hours a day and, two years later, it switched to twenty-four-hour service.
During its service, it has offered an incredible 34,000 hours of live coverage including eight Paralympic Games and seven children's and youth games. Traditionally, the channel broadcasts not only professional sporting events, but also minority any amateur competitions.
In 2021, CT sport is going to assist at thirty-two championships in a total of twenty sports including hockey and soccer, it will also cover the Olympics, and its cameras will be present at twelve domestic professional competitions.
2021
Czech Republic - CT enjoyed strong ratings in 2020
Last year, for the third time in a row, Czech Television became the most watched Czech broadcaster with an average audience share of 30.86%. Moreover, niche channels CT24 and CT art achieved their highest results ever. CT1 improved its performance during the day (the best result since 2010) and in primetime. The share of Czech Television increased both in all-day broadcasting and in primetime (19.00-22.00) as it reached 29.45%. This is the second highest share in the last twelve years.
2021
Last year, the Czech Television program recorded the best audience satisfaction rating
Last year, Czech Television received an 8.5 audience satisfaction rating. The improvement was recorded in particular among viewers under 35 years of age. Last year, Czech Television also marked success at international level. For eight years in a row, CT24 had been the most watched news public service channel in Europe reaching, in addition, the highest audience share increase year-on-year. Niche channels in particular registered a growing viewers' satisfaction last year. The growth was registered not only by CT24, which is news channel, but also by CT art, which is a culture channel. Together with the new CT3 channel, CT art became the best rated channel (8.8 both). CT1, the main CT channel, retained the same audience satisfaction rating as the year before (8.5).
2021
Czech Television prepares special news reporting for elderly citizens
Czech Television is launching a new news program for its elderly viewers called Zprávy ČT3 (News CT3) which is going to complement the existing Czech Television news programs.
The new program should be slightly lighter and adapted to the needs and interests of people who have reached the age of retirement. The new program will be moderated at a slower pace using, for example, bigger graphics which are easier to read. The program will get on the air for the first time on Monday, February 1.
2020
EBU elects new Executive Board
The EBU has a new Executive Board – made up of representatives of public service media from throughout Europe.
Nine board members will join the EBU's new President Delphine Ernotte Cunci (France Télévisions) and Vice-President Petr Dvořák (Czech TV) to help lead the EBU over the next two years.
The new Executive Board were elected by Members at the EBU's 85th General Assembly. The Board is responsible for ensuring the implementation of the EBU's strategy and policies.
Thomas Bellut, Monika Garbačiauskaitė-Budrienė and Fran Unsworth all join the Executive Board for the first time. Alexander Wrabetz re-joins after a four-year absence.
Thomas Bellut has been Director General of ZDF since 2012 while Monika Garbačiauskaitė-Budrienė was appointed Director General of Lithuanian National Radio and Television in 2018. Fran Unsworth runs the BBC's news and current affairs programming and is a Member of the BBC Board.
Alexander Wrabetz has served as Director General of ORF since 2007 and was previously an EBU Board Member from 2011-2016.
Cilla Benkö has been appointed for her fifth term as an EBU Board Member while Marcello Foa, Giacomo Ghisani, Sebastian Sergei Parker and Gonçalo Reis will be serving for a second term.
Incoming EBU President Delphine Ernotte Cunci said: "I'm glad we could gather a great cast of skills and experience and also keep the balance of the geographical, economical and cultural diversity of the EBU Members in the composition of the new Executive Board. For the first time, I'm also proud to include 3 women on the board."
The Assembly warmly thanked outgoing Board members together with President Tony Hall (BBC) who has served as President of the EBU for the last two years.
2020
Delphine Ernotte and Petr Dvořák elected as President and Vice-President of the EBU
France Télévisions Chief Executive Officer Delphine Ernotte Cunci has been elected as the new President of the European Broadcasting Union (EBU). Czech Television's Director General Petr Dvořák will serve as Vice-President. They were both elected to the roles by an absolute majority at the EBU's first virtual General Assembly held online today. They will take up the new roles from 1 January 2021 for a two-year period. The President and Vice-President are responsible for leading the EBU's Executive Board and help champion the value and importance of public service media across Europe. Delphine Ernotte Cunci was appointed CEO of France Télévisions in 2015 and has just been re-elected for a second-term. Prior to joining France Télévisions, she spent 26 years at Orange S.A. (previously known as France Télécom), latterly working as CEO of Orange France from 2011–2015. She is currently serving as Vice-President of the EBU and will replace ex-BBC Director General Tony Hall as President.
Petr Dvořák has been Director General of Czech Television since 2011. Prior to joining, he served as Senior Vice President for Central European Media Enterprises and also worked as Director General of TV Nova – the most successful commercial television group in the Czech Republic.
2020
The coronavirus on Czech Television
● CT is reacting flexibly to the situation which has occurred due to the spread of the coronavirus infection by making adjustments to its programs.
● CT deals with the current situation in depth using especially its news channel CT24 and also CT1, which is the channel with the highest reach.
● CT provides a complex coverage of the issue by broadcasting press conferences of the government, informing of the domestic developments and of the situation abroad; informing citizens in a concise way of the new regulations and recommendations made by the government and providing advice on how to comply with these.
● CT prepares special programs and debates attended by leading experts.
● The information is available not only during the broadcast, but also on CT's website and on social networks.
● The CT24 website includes a separate CORONAVIRUS sub-domain reflecting the latest developments using online broadcast. Viewers can find here all kinds of information and advice including e.g. on how to make a drape at home.
● The CT24 news channel has created a public group entitled "CT24 pomaha" (CT24 helps) on its FB profile. Citizens may use this group to inform each other, to provide or get advice and to share useful instructions.
On Monday, March 16, CT launched a unique project entitled UčíTelka ("TVeacher").
It is a special block of educational programs for pupils created in reaction to the closing of schools throughout the whole of the Czech Republic. Apart from UčíTelka, which is on in the morning, the CT2 channel offers an afternoon block of educational programs for upper-class school children. CT1 also broadcasts a special educational program on Tuesdays and Thursdays. The Škola doma program (School at home) will help students studying for entrance exams to secondary schools and to special secondary schools for children aged 11.
The launch of CT3 – A third-age television: Czech Television is going to launch a channel for the elderly.
On Monday, March 23, Czech Television is launching a new channel called CT3. The primary goal is to help the group at the greatest risk, which is the group of the elderly who are currently forced to stay at home. The content of the programs will be calmer and the information will be provided in a way adapted to elderly viewers. The channel is going to broadcast daily from 9 a.m. to 5:25 p.m. The program offer will be based on the golden television fund, topical television magazines and basic information coverage.
Czech Republic postpones the transition to DVB-T2 due to the coronavirus pandemic
Ceske Radiokomunikace (Czech Radiocommunications) is suspending the final stage of the transition to DVB-T2. By the end of March, there will be no further switch-off of DVB-T broadcasting, as agreed by Czech Radiocommunications (CRA) with other relevant institutions and television stations. The change applies to all deadlines of the planned switch-off of the existing DVB-T broadcast and the retransmission of the DVB-T2 transition network to the final frequencies.
2019
Czech Television has a representative on one of the most important EBU committees
The Legal and Policy Committee is a body elected by the Legal and Public Affairs Assembly.
Its general role is to promote and defend public service media in Europe and particularly vis-à-vis the European Union, as well as to establish and implement the EBU's European legal and public affairs strategy.
The committee analyses specific topics and makes proposals on sectoral strategy, it can also formulate official positions.
2019
Dr. Simone Emmelius has visited Czech Television
Ms. Emmelius is a Senior Vice President, Coproduction and Acquisition, in ZDF. She is also a member of the European Alliance, its founding members being ZDF-Germany, RAI-Italy, and FTV-France. The European Alliance is mainly involved in the production of television series and looks for new co-production partners.
Participation in international projects
EBU Peer-to-Peer Review
EBU Contribution to Society
EBU Generation What?
Membership in international organisations
EBU European Broadcasting Union
PBI Public Broadcasting International
Circom European Association of Regional Television
FIAT/IFTA International Federation of TV Archives
IMZ International Music and Media Centre
EDN European Documentary Network
EURONEWS, Eurosport
PRIX EUROPA
Fotogallery