It all started back in 1953…
History
— English Pages — Česká televize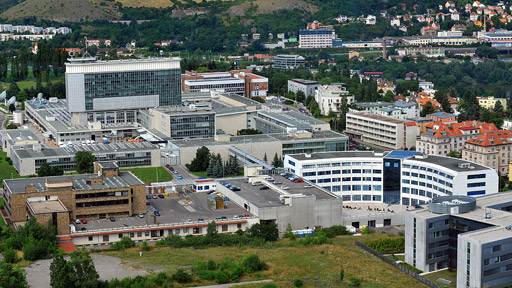 Welcome to the English Pages of Czech Television (CT), the public service broadcaster in the Czech Republic
Basic Facts
1953 first television broadcasting trial from Studio Prague started on May 1
January 1, 1992 Czech Television was established based on the Czech Television Act
organizational units and studios in Prague, Brno and Ostrava
independent on state and advertisement
almost 3,000 employees
Annual budget 253,000,000 EUR (2016)
67 % own productions
AD share 15+ 30.42 % (info from 7.1.16 – PR)
television licence fee 5 EUR/month/household
revenues from business operations – 9 % of total budget
broadcasts via DVB-T (HbbTV), DVB-S, IPTV and internet
History
1953 first television broadcasting trial from Studio Prague started on May 1
1970 second channel ČT 2 was launched
1973 colour broadcasting on the second channel ČT 2
1975 colour broadcasting on the first channel ČT 1
1992 Czech Television was established based on the Czech Television Act
2005 news channel ČT 24 and DVB-T was launched
2006 channel ČT sport was launched
2010 HDTV was launched
2011 analogue switch-off
2013 new thematic channels ČT :D and ČT art were launched
2013 HD broadcasting in DVB-T: ČT 1 HD, ČT 2 HD, ČT sport HD
2013 professional platform Fórum Ultra HD was established – initiated by ČT
2014 DVB-T2/HEVC trial broadcasting – shared project with ČRa (Czech Radiocommunication)
2015 trial broadcasting UHDTV on SES Astra satellite
Channels
ČT 1 (HD) is a family-oriented channel showing original Czech movies, series, entertainment and lifestyle.
ČT 2 (HD) broadcasts documentaries, nature-oriented shows and foreign films and series.
ČT 24 is a 24-hour news channel offering breaking news and in-depth economic, regional and cultural news.
ČT sport (HD) broadcasts world, European and Czech sports events.
ČT :D is a children's educational channel without advertising, launched 31. 8. 2013. Broadcasts from 6am until 8pm.
ČT art broadcasts from 8pm until late night – 5:20 a.m.
ČT art is a channel focusing on culture, theatre, operas, music, art films, launched 31. 8. 2013.