Membership in international organisations, Contact
International Relations
— English Pages — Česká televize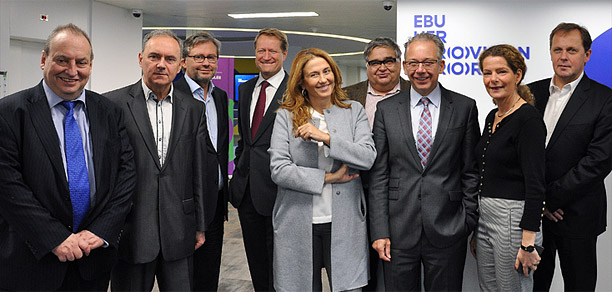 EBU Executive Board 2015-2016 From left to right: Ken MacQuarrie (BBC/UK), Andrzej Siezieniewski (PR/Poland), Alexander Wrabetz (ORF/Austria), Ulrich Wilhelm, (ARD/Germany), Monica Maggioni, (RAI/Italy), Petr Fedorov (RTR/Russia), Jean-Paul Philippot (RTBF/Belgium), Cilla Benkö (SR/Sweden), Petr Dvořák (Ceská Televize/Czech Republic). Missing from the photo: Christian Vion ((FT/France), Faïçal Rachid Laraïchi (SNRT/Morocco)
zdroj: www.ebu.ch
International Relation, was established on July 1, 2014, with the goal of developing international cooperation of Czech Television and enhancing the position of Czech Television in international institutions.
The Department is responsible for bilateral agreements, communication and cooperation with the EBU and other International organizations and institutions.
Basic Facts about Ceska televize (pdf, 1,7 MB)
International Television Festival Golden Prague
Ceska televize is proud to present the International Television Festival Golden Prague (www.festivalgoldenprague.cz).
ITF Golden Prague is a unique international festival presenting the world's best music and dance programmes and films in all musical genres. The prestigious international competition is accompanied by a videolibrary, premiere screenings, workshops and the Gala Awards Ceremony.
Past international events hosted/organised by Ceska televize
EBU Technical Assembly, June 2014
EBU News Assembly, November 2014
EBU General Assembly, June 2015
EBU Finance Assembly, September 2015
Workshop GEN (Global Editors Network), November 2015
EBU Voice of PSM, November 2015
Upcoming international events hosted/organised by Ceska televize
High level meeting V4 Group, April 2016
Eurovision Connect, May 2016
Membership in international organisations
EBU European Broadcasting Union
PBI Public Broadcasting International
Circom European Association of Regional Television
FIAT/IFTA International Federation of TV Archives
BFA Broadcasting Fee Association
IMZ International Music and Media Centre
EDN European Documentary Network
PRIX ITALIA
EURONEWS, Eurosport
Contact for International Relations
Ms.
Andrea Beranova
Head of International Relations
internationalrelations@ceskatelevize.cz
phone: +420 261 134 736