Membership in international organisations, Contact
International Relations
— English Pages — Česká televize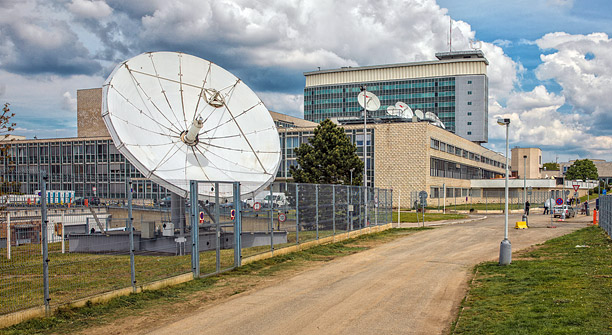 International Relations, was established on July 1, 2014, with the goal of developing international cooperation of Czech Television and enhancing the position of Czech Television in international institutions.
The Department is responsible for bilateral agreements, communication and cooperation with the EBU and other International organizations and institutions.
Contact for International Relations
/ a href="http://img.ceskatelevize.cz/boss/image/contents/english/foto/en-intrel-beranova.jpg" rel="lightbox">

/ /a>
Ms.
Andrea Beranova
Head of International Relations
internationalrelations@ceskatelevize.cz
phone: +420 261 134 736
Past international events hosted/organised by Ceska televize
Petr Dvořák re-elected director general of Czech TV
EBU Board Member Petr Dvořák has been re-elected as Director General of Czech Television for the next six years.
A total of 12 candidates presented their candidacy for the position of Director General of Czech Television. Five of them went to the second round. The Council of Czech Television elected Dvořák on 26 April in the second round of the election and his second mandate officially starts on 1 October 2017.
"The concept of Czech Television's development, which I offered to the Council of Czech Television, is based on two basic principles. The first one is continuity. Continuity in terms of the values promoted by Czech Television, in terms of financial and operational stability and openness to the outside world and the continuity of leadership", says Petr Dvořák.
"The second important principle is innovation. The principle necessary for Czech Television to be a modern medium relevant to contemporary society and, not only innovation in the field of technology, but also in the sense of a change of thinking, production processes or creativity and inventive production.
"I have a clear idea of where Czech Television should go and how it should evolve in all the main areas of activity and economy in order not to lose its independence and social importance. I am glad and I appreciate that the Council of Czech Television considers this concept the right and viable path", adds Dvořák.
20th Sports Assembly
The Sports Assembly was held on 23-24 March in Prague (80 representatives from 38 EBU Members), where the joint Sports Legal Group and the Eurovision Coordinators Group also took place.
Mainly focused on the Sports Rights Strategy and the revision of the Sports Rights Acquisitions Rules and Procedures.
Inter-parliamentary Conference, PUBLIC SERVICE MEDIA and democracy, Hosted by the Chamber of Deputies of the Parliament of the Czech Republic
Prague, Czech Republic, 10. – 11. 11 2016
Over 100 delegates from 19 countries in Central & Eastern Europe (CEE) and beyond came together in Prague to discuss the need to protect the independence and sustainability of public service media (PSM) in the face of numerous challenges.
Public service broadcasters, Parliamentarians, regulators, diplomats, academics and experts from a range of organisations including the Council of Europe, Venice Commission, OSCE and the European Federation of Journalists, met for two days of debate on how to ensure PSM is allowed to operate and develop independent of political control.
53rd International Television Festival Golden Prague, 28. 9. – 1. 10. 2016
Director General's CEE Group Meeting, 30. 9. 2016
General Directors of Public Service Media from Central Eastern Europe came to Prague. Fifteen top representatives of public service broadcasters from ten countries of Central Eastern Europe met in Prague on the extraordinary meeting to discuss the current situation of public service television and radio and the conditions for their operation in the region.
Delegation from SAPPRFT - China, Beijing , 16. 9. 2016
(SAPPRFT = Policy and Legal Department of State Administration of Press Publication Radio Film and Television of China P.R.)
Election Coverage Seminar Patriotic Hall, Carolinum, Prague, 7th June 2016
On Tuesday, June 7 at the Patriotic Hall of Carolinum was held The Election Coverage Seminar.
The Czech Television was represented by Zdeněk Šámal, Director of News, who introduced the actual experience with preparation of pre-election and election broadcasting. As well the representatives of research agencies and public service media from Austria, ORF, Oliver Ortner, Head of ZiB1, Main daily news broadcast, Finland, YLE, Juho Salminen, Head of online feature and data desk, News and current affairs, and Belgium, VRT, Carl Voet , Editor in Chief of Current Affairs programs participated in this event.
Chairman of Czech Television Council, Jan Bednar, highlighted the contribution of The Director of News and as well the contribution of foreign participants regarding election coverage by public service media in their countries. He added that some ideas of the audience will be usefull in future as an inspiration.
EBU Eurovision Song Contest, Stockholm, May 2016
Ukraine's Jamala won the 2016 Eurovision Song Contest with the song "1944". The Grand Final of the world's biggest live musical television event was held on Saturday 14 May in Stockholm, Sweden. The 2016 Eurovision Song Contest was a coproduction by the European Broadcasting Union (EBU) and Sveriges Television (SVT).
The 26 finalists performed live in front of an audience of 10,000 inside the Globe Arena in the Swedish capital. In total, 42 EBU Members competed in this year's Eurovision Song Contest. 16 nations were knocked out in two Semi-Finals held on 10 and 12 May.
The Czech Television was represented by Gabriela Gunčíková with the song "I stand".
EBU 20th Eurovision Connect, Prague, May 2016
Eurovision Connect is a very successful annual conference held under the auspices of the EBU for more than 20 years. The 2016 conference was held in Prague on 19 to 20 May at the kind invitation of Czech Television.
It brings together more than 170 professionals from public service broadcasters all across Europe for a packed two-day schedule highlighting innovation, creativity and excellence in broadcast marketing in all its forms, both traditional and new.
The conference covers topics such as branding, marketing, promotions, audience navigation, design and media planning, with an increasing focus on the use of digital and social media.
V4 High Level Meeting, Brno, April 2016
V4 High Level Meeting is a meeting among the public service media of V4 countries. The 2016 edition was organised by Czech Television and was held on 28th April 2016 in Brno.
EBU Voice of PSM, November 2015
Workshop GEN (Global Editors Network), November 2015
52nd International Television Festival Golden Prague, 30. 9. – 3. 10. 2015
EBU Finance Assembly, September 2015
EBU General Assembly, June 2015
EBU Eurovision Song Contest, Vienna, May 2015
EBU News Assembly, November 2014
EBU Technical Assembly, June 2014
Participation in international projects
EBU Peer-to-Peer Review
EBU Contribution to Society
EBU Generation What?
Membership in international organisations
EBU European Broadcasting Union
PBI Public Broadcasting International
Circom European Association of Regional Television
FIAT/IFTA International Federation of TV Archives
BFA Broadcasting Fee Association
IMZ International Music and Media Centre
EDN European Documentary Network
EURONEWS, Eurosport
PRIX EUROPA
Fotogallery