Membership in international organisations, Contact
International Relations
— English Pages — Česká televize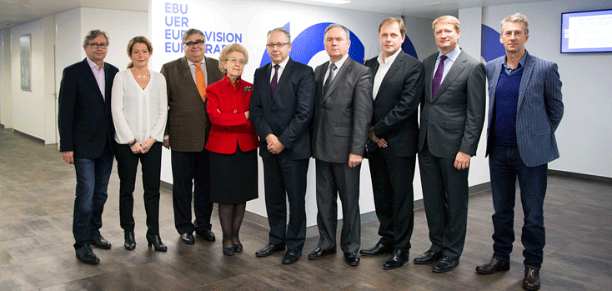 EBU Executive Board 2014-2016 From left to right: Alexander Wrabetz (ORF), Cilla Benkö (SR), Petr Fedorov (RTR), Vice President Anna-Maria Tarantola (RAI), President Jean-Paul Philippot (RTBF), Andrzej Siezieniewski (PR), Petr Dvořák (CT), Ulrich Wilhelm (ARD), Peter Salmon (BBC). Missing: Rachid Faïçal Laraïchi (SNRT), Remy Pflimlin (FT)
zdroj: www.ebu.ch
International Relation, was established on July 1, 2014, with the goal of developing international cooperation of Czech Television and enhancing the position of Czech Television in international institutions.
The Department is responsible for bilateral agreements, communication and cooperation with the EBU and other International organizations and institutions.
Membership in international organisations
EBU European Broadcasting Union
PBI Public Broadcasting International
Circom European Association of Regional Television
FIAT/IFTA International Federation of TV Archives
BFA Broadcasting Fee Association
IMZ International Music and Media Centre
EDN European Documentary Network
PRIX ITALIA
EURONEWS, Eurosport
Contact for International Relations
Ms.
Andrea Beranova
Head of International Relations
internationalrelations@ceskatelevize.cz
phone: +420 261 134 736