NEW!!! FOR PROGRAMME SCREENINGS SEE LOG IN/OUT
Telexport - programmes
Catalogue of Czech Television Programmes
Czech National Symphony Orchestra and Chick Corea
Český národní symfonický orchestr a Chick Corea
This multiple Grammy-winner made his name collaborating with Miles Davis, Herbie Hancock and Keith Jarrett. With his range of awards and honorary doctorates at several universities, but above all for his enormous contribution to the genre of jazz, Chick Corea has long since been a living legend. The inclusion of American jazz pianist and composer Armando Antonio Corea, known under the nickname "Chick", will undoubtedly thrill lovers of Jazz. Also performing on the recording of this Prague concert is Steven Mercurio, who will conduct the Czech National Symphony Orchestra.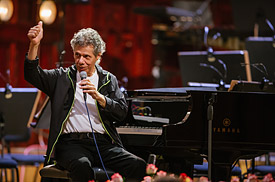 videotape-hdtv | 52´ | © 2018
director(s): Petr Kůrka
producer(s): Czech Television, Sound Trust, s.r.o.
rights available: TV, Video, Internet
original language: Czech
subtitles available: English
add to the request