NEW!!! FOR PROGRAMME SCREENINGS SEE LOG IN/OUT
Telexport - programmes
Catalogue of Czech Television Programmes
Czech National Symphony Orchestra and Vince Mendoza
Český národní symfonický orchestr a Vince Mendoza
Vince Mendoza currently numbers among the best creators of jazz and contemporary music. His compositions and arrangements are included on the albums of legends such as Björk, Chaka Khan, Al Jarreau, Bobby McFerrin, Melody Gardot, Sting and Joni Mitchell. This footage of a concert at Prague's Municipal House, intercut with interviews with the main protagonists, features such figures as guitarist Lukáš Chejn, trumpet player Jan Hasenöhrl or the excellent French saxophone player Stéphane Guillaume and Dutch drummer Martijn Vink.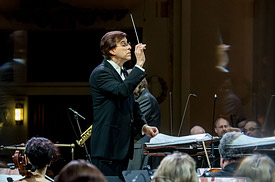 videotape-hdtv | 52´ | © 2018
director(s): Petr Kůrka
producer(s): Czech Television, Sound Trust, s.r.o.
rights available: TV, Video, Internet
original language: Czech
subtitles available: English
add to the request