A Pilot Tale
Balada o pilotovi
A story inspired by historical events, where the main hero is a pilot of the British Royal Air Force. Captain Emil Malík is returning home to his family in 1945 hoping for a happy life after surviving the horrors of war piloting RAF combat aircraft. The story captures not only the dramatic operations of Malík and his RAF colleagues, but also the coercive campaigns of the Soviet People's Commissariat of Internal Affairs (abbreviated NKVD), which tried to gain Malík's cooperation at any price. The secondary storyline is Malík's relationship with his wife Karla, who has been affected by six years of war. As the wife of a foreign soldier, she had to spend three years in a concentration camp in Svatobořice, and her children had to be taken in by her sister.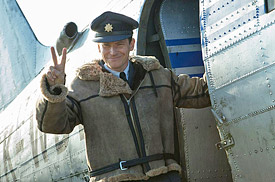 videotape-hdtv | 101´ | © 2018
director(s): Ján Sebechlebský
producer(s): Czech Television
scriptwriter(s): Jiří Stránský, Ján Sebechlebský
director of photography: Tomáš Stanek A.S.K.
cast: David Švehlík, Gabriela Marcinková, Lucie Žáčková, Petra Špalková, Jiří Dvořák, Vladimír Javorský, Petr Stach, Daniel Krejčík, Milan Aulický, Antonie Formanová and others
rights available: TV, Video, Internet
original language: Czech
subtitles available: English
add to the request