The World According to Termites
Svět podle termitů
Termites - for somebody exotic crap, for others, the pests that are causing tremendous economic damage. The film attempts to show them differently: as a force that significantly influences the ecosystem of our entire planet, and also as an object of intense scientific research that reveals their fascinating life and extraordinary adaptation.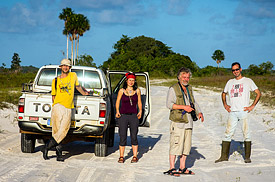 videotape-hdtv | 52´ | © 2017
director(s): Jan Hošek
producer(s): Czech Television, Czech University of Life Sciences Prague, Marián Polák
scriptwriter(s): Jan Hošek
director of photography: Jiří Petr, Marián Polák
cast: Narrator: Rob Cameron
rights available: TV, Video, Internet
original language: Czech
subtitles available: English
other data: Director Biography - Jan Hošek is scriptwriter and director of mainly natural history and wildlife documentary films. He has made films such as Tsunami after the wave of interest, Of Bats and Darkness, Of ground squirrel and people, The return of wild horses, The World according to Termites and many others.
add to the request