Travelling Around
Na cestě
A documentary travelogue focusing on attractive but less well-known localities, for example Yemen, Acapulco, Ethiopia, Vietnam and other places. The individual parts of this series bring descriptions of all the typical aspects natural, historical, cultural and social. However, stress is mainly laid on the lifestyles and traditions of the inhabitants, because it is they who create their environment.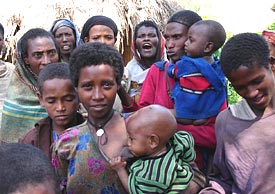 videotape-hdtv | 472 x 27´ | © 2006-2019
director(s): Mojmír Kučera, David Sís, Jiří Novák and others
producer(s): Czech Television, Frmol
scriptwriter(s): David Sís, Jiří Novák, Mojmír Kučera, Jan Drbohlav and others
director of photography: Vít Bělohradský, Tomáš Schafer and others
cast: Narrated - Miroslav Donutil, Jiří Bartoška
rights available: TV, Video, Internet
original language: Czech
other data: SD - parts 1-145; HD - parts 146-472. Further parts in production.
add to the request