Criminal Investigation 5C
Kriminálka 5.C
A detective series for children. Episode by episode the young detectives, led by classic-whodunnit-fan Petr Mikina and his classmates, expose the perpetrators of some serious criminal offences – smugglers of critically endangered, protected species of parrots, tortoises, reptiles, orchids and butterflies, as well as eagle-egg thieves and illegal tiger breeders. Each episode brings the children closer and closer to the head of a whole clan of villains, Benny Ryba – but they have no idea who Benny Ryba is or what he looks like. Dramatic and gripping detective work often puts the children in dangerous situations and in direct confrontations with dangerous offenders.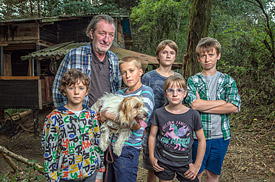 videotape-hdtv | 13 x 28´ | © 2019
director(s): Juraj Nvota
producer(s): Czech Television, ALEF FILM & MEDIA, RTVS, Filmové ateliéry
scriptwriter(s): Roman Kopřivík, Pavel Taussig
director of photography: Tomáš Stanek A.S.K.
cast: Boleslav Polívka, Martin Myšička, Lenka Krobotová, Jan Dolanský, Matěj Sedlák, Milo Kennedy, Kateřina Vorlová, Andy Kummer, Tamara Pčolková, Žofie Zátopková, Matěj Havelka and others
rights available: TV, Video, Internet (excluding Slovakia)
original language: Czech
subtitles available: English (parts 1, 5)
add to the request