ZELARY
Želary
The strong dramatic story unwinding amidst magnificent landscapes tells us about a fatal love that had grown from negative emotions and the feeling of fear, anxiety and mistrust in the beginning it was actually repulsion. About a deep and lasting love created from the common effort to survive under adverse conditions. The time is the 1940s, when Bohemia and Moravia were occupied by the Germans and called a protectorate. Eliska is a young girl who had been a medical student until the universities were closed down by Nazi orders. She is working as a nurse at a provincial hospital and has a love affair with Richard, a charming and successful surgeon. The two young people and also their superior and good friend Doctor Chladek are members of the secret resistance movement. One night a seriously injured man is brought to hospital from the distant border mountains; he urgently needs a blood transfusion. Chance has it that he has blood of the same group as Eliska, so that she saves his life. This gift of blood forms a bond that finally turns into an exceptionally strong and deep love affair between Eliska, the modern, educated city girl and Joza, the rough-hewn child of nature, a man with an open, naive soul. The local group of resistance fighters are given away and are being persecuted by the Gestapo. They are all to die. Richard the head physician is whisked away by the underground movement; unbeknown to Eliska, a different, seemingly safe hiding place is planned for her. At the hospital the leaders of the resistance group arrange with the patient Joza that he would hide Eliska in his cottage, situated high in the mountains. Eliska is given false documents and a new identity as Hana. She is forced to leave immediately, to become the wife of a mountain inhabitant and to live the simple life of poor mountain folk in a mountain village where life has not changed for a 150 years. This hamlet is called Zelary.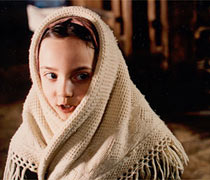 HD | 142' | © 2003
director(s): Ondřej Trojan
producer(s): Czech Television, Total HelpArt T.H.A.,Falcon, Barrandov Studio, Dor Film (Austria), ALEF Film & Media Group (Slovak Republic)
scriptwriter(s): Petr Jarchovský
director of photography: Asen Šopov
cast: Aňa Geislerová, György Cserhalmi, Jaroslava Adamová, Miroslav Donutil, Jaroslav Dušek, Iva Bittová, Ivan Trojan, Jan Hrušínský, Ondrej Koval, Juraj Hrčka, Edita Malovcic, Michael Hofbauer, Imre Borároš, František Velecký, Svatopluk Beneš, Zita Kabátová, Reinhard Simonischek, Gabriele Schmoll, Tomáš Žatečka, Anička Věrtelářová, Jan Tříska
rights available: TV, Video, Internet, Theatrical worldwide (excluding Austria, Slovenia, Slovakia and Hungary)
original language: Czech
subtitles available: English
other data: Awards: Nomination for the Best Foreign Language Film Category - Annual Academy Awards 2003 / Pepople CHoice Award - Sydney International Film Festival 2004 / The Best Musical Score - karachi International Film Festival 2004 / The Best Actress Kinnaree for Anna Geislerova. Bangkok International Film Festival 2005.
website: http://www.zelary.com
watch video
add to the request